—
O

LD

P

ICTURES —

HERE YOU FIND some of my elder pictures that have partly been drawn or painted already in school. The newest are on top.
Ganymede and the Darkmen
Watercolour, 24 ∙ 15 ½ cm², 1999. — Ought to have become kind of an allegory; on what, I don't quite know myself. The name "Ganymede" I chose because I liked it and not because I'd set value on its meaning in Greek mythology.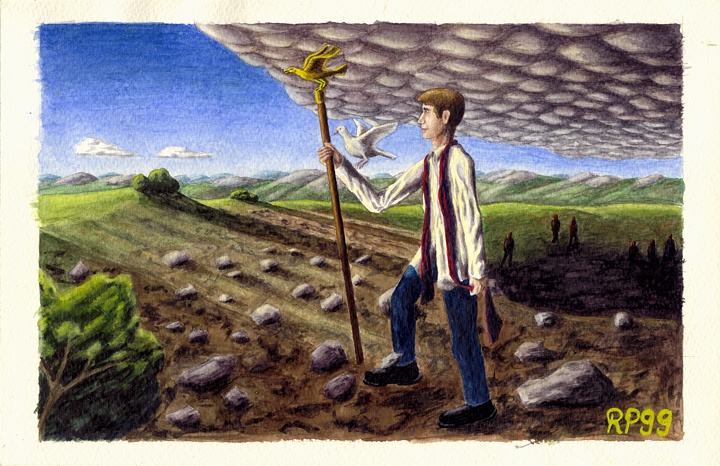 Hound and Hunter
Watercolour, 24 ½ ∙ 10 cm², 1999. — Once served as an illustration for a previous page on one of my hobbies, hunting.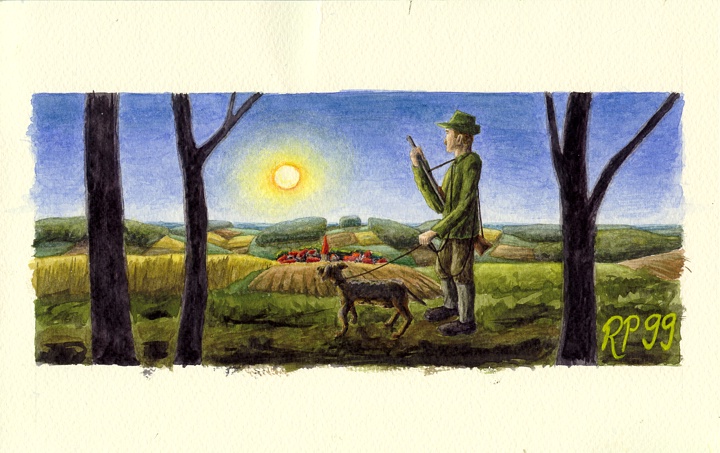 Homecoming
Watercolour, DIN A 4, 1998. — A fantasy picture. Who (as a better connoisseur of horses than I am) believes to see faults in anatomy, bridle or the way of holding the reins, must err: That's just the way it is with a pegasus. The crosses come from my favourite aircraft, the German biplanes of World War I.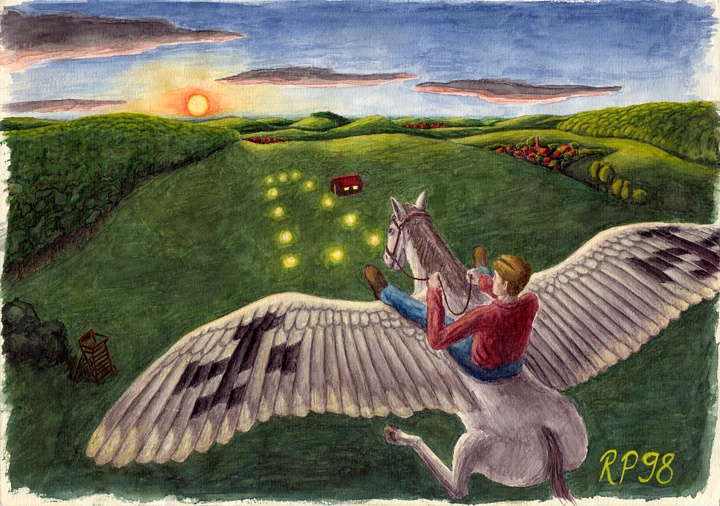 … having the World at his Feet
Watercolour, DIN A 4, 1997. — The sequel to the previous picture's subject, this time viewed from the opposite direction.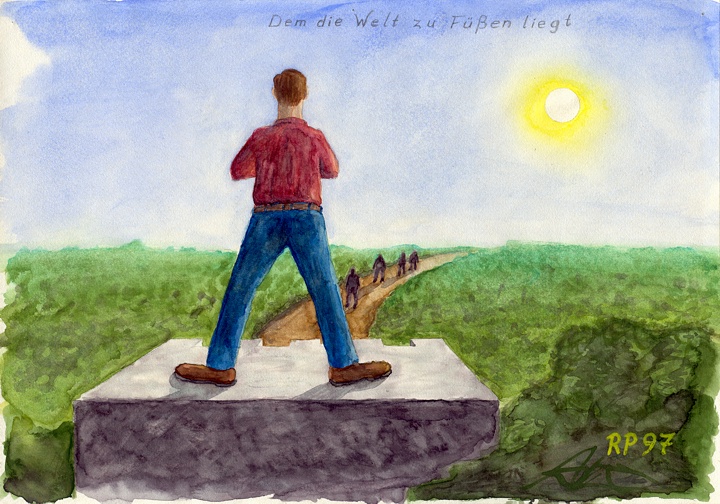 Adloff the Gigantic …
Watercolour, DIN A 4, 1997. — This is my second watercolour picture after all. (The first was an effort hardly worth displaying, which I don't possess any longer, either.) Once in senior art classes painting with watercolour became an issue, and the set topic was "man and space". So all I did was depicting a man in space. To make it look particularly impressive, I depicted a particularly impressive​—​superior, superhuman, gigantic​—​man: Adloff the Gigantic. The name "Adloff" I took from a figure that once came to me in a dream: Adloff Uffbruchlokal ('Adloff Breakup-Pub'), ugly host of a decrepit inn. Unlike the person shown here he rather resembled Mampf of the Knax characters. "OPQR" is for the letters of the alphabet between N and S.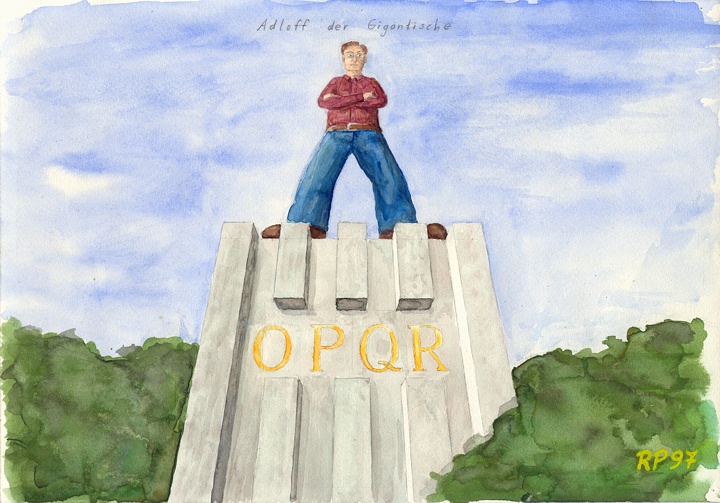 Cherub before Paradise
Pencil, 19 ∙ 24 cm², 1997. — One of the cherubim who, according to Genesis 3:24, bar the entry to the Garden of Eden. Together with the previous one and some other drawings, this picture ought to have become part of a collage on the topic "angels" in my art classes at school.
"… the angel guards the gate no more, to God our thanks we pay."

Lucifer und Michael
Pencil, 21 ∙ 30 cm², 1997. — Preparatory scrap for a never finished pencil picture in my senior art classes. Ought to have become part of a collage on the topic "angels" together with the above drawing. Shown is the 'fallen angel' Lucifer just being defeated by St. Michael the Archangel.